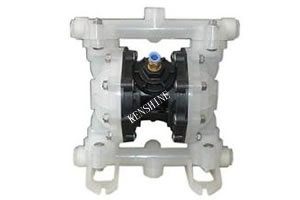 The RW series air-operated diaphragm pump of our company is a latest model of fluid transportation equipment, which is currently one of the most innovative pumps in china. Using compressed air as the power source, it can pump various fluids drastically, whether corrosive, volatile, flammable, poisonous liquid or fluids with particles and high viscosity.
Our diaphragm pumps have totally six specifications. The sizes for import/export are 1/4", 1/2", 3/4", 1", 1.5", 2", 3" and 4". The components which contact with the fluids are usually made of aluminum alloy, nodular cast iron, polypropylene, stainless steel. Depend on the varied applications, and the materials of diaphragm can be styrene rubber, neoprene, polythene, polyether rubber, fluorine rubber, Teflon and PVDF, so that it can meet the requirements of different fluid mediums.
Main Applications:
1. Chemical industry: Acids, alkalis, solvents, suspended solids, decentralized system.
2. Petrochemical industry: crude oil, heavy oil, grease, mud, sludge, etc.
3. Coatings Industry: resins, solvents, coloring agent, paint, etc.
4. Cosmetic industry: detergent, shampoo, lotion, emulsion, camphor ice, surface active agents.
5. Ceramics: mud, slurry pottery, lime milk, clay slurry.
6. Mining industry: coal slurry, magma, mud, mortar and explosives, lubricant, etc.
7. Water treatment: lime milk, soft sediments, sewage, chemicals, waste water.
8. The food industry: liquid semi-solid, chocolate, salt water, vinegar, syrup, vegetable oil, soybean oil, honey, animal blood.
9. Beverage industry: yeast, sugar syrup, concentrations, gas-liquid mixture, wine, fruit juice, corn pulp, etc.
10. Pharmaceutical industry: solvents, acids, alkalis, plant extract liquid, cream, plasma and other liquid drugs.
11. Paper industry: adhesives, resins, paints, inks, paints, hydrogen peroxide, etc.
12. Electronics industry: solvent, electroplating fluid, cleaning fluid, sulfuric acid, nitric acid, waste acid, corrosive acid, polishing liquid.
13. Textile solution: chemical dyes, resins, rubber, etc.
14. Construction industry: grout, ceramic tile adhesives, rock slurry, ceiling finish, etc.
15. Automotive industry: polishing emulsion, oil, coolant, automotive priming, oil emulsion paint, varnish, varnish additives, degreasing fluid, paint, etc.
16. Furniture industry: adhesives, varnishes, decentralized system, solvents, color agent, sapwood glue, epoxy resins, starch binder.
17. Metallurgy, casting and dyeing industry: metal slurry, hydroxides and carbide slurry, dust cleaning slurry.